Communication is key when it comes to the car-buying experience, and our used car dealership near New Haven, CT, never wants anyone to feel excluded because of their native language. So, if you're more comfortable speaking Spanish when you visit us to shop for a used truck, SUV, minivan or sedan, know that Road Ready Used Cars is here for you. We're the premier used car dealership nearby when you're searching for a Spanish-speaking staff you can trust, as we have two members of our team who are fluent in Spanish and will happily assist you if that's the language you prefer.
Meet Frankie Cajigas and Miguel Cordoliani, two of our finest used car sales associates. Both of these talented experts are here to help you buy your next pre-owned car while using Spanish. Like all of our transactions, your experience at Road Ready Used Cars will be transparent, stress-free and friendly! Our used inventory is filled with pre-owned cars for sale from popular brands like Ford, Jeep, Honda, Dodge and Chevrolet, and we even sell luxury models from Mercedes-Benz, Cadillac and Lexus. Whatever you're searching for in your next vehicle, know that Road Ready Used Cars is here to help you find exactly what you need.
Frankie Cajigas
Sales Associate
203-371-6957 Frankie@roadreadyusedcars.com
Frankie started in the automotive business during the late 90's in CT and then continued down in South Florida. He joined the Road Ready team in February 2017 after returning to CT. He wants to provide you with an exciting and pain free car buying experience. Franks prides himself on his Hispanic heritage and helps customers feel comfortable by speaking their native language. Frankie is also the food connoisseur at Road Ready, so if you're looking for somewhere to eat after purchasing a car just talk to the Food Networks top analyst Frankie C.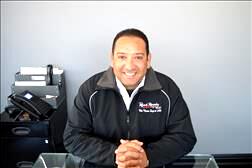 Miguel Cordoliani
Sales Associate
203-371-6957 Miguel@roadreadyusedcars.com
Miguel has been with the Road Ready team since June 2017 when he came to the United States from Venezuela. Miguel has been in the automotive industry since 2005 and loves everything about cars. Prior to working here Miguel was selling cars and parts in Venezuela. He started by selling Mercedes and Freight liner trucks and soon became the top ranked salesmen by selling a record 120 trucks. Miguel continued to develop his sales skills and has used the skills to provide Spanish speaking customers the best possible experience.